Megawattage Adaptogen Formula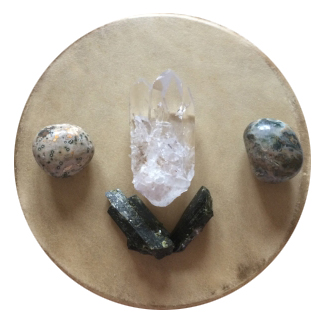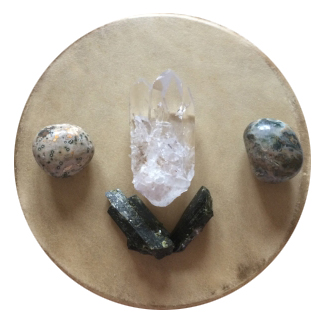 sold out
Megawattage Adaptogen Formula
Chakra + Endocrine Balancer | Immune Boosting | Stress Relieving
Adaptogens are a category of wise herbs and stones that raise the threshold for stress, build up the glandular system and balance the chakras all while raising consciousness. When found in nature, adaptogens grow hardy, like a beautiful flower on top of a cold windy mountain in Tibet. As my wise herbal teacher Gail Faith Edwards says, "When a plant thrives no matter what, take a deeper look, and you may find that it will help you to do the same."
Megawattage Adaptogen Blend alchemizes a trio of stones that will nourish every cell of who you are. The herbs of Astragalus, Licorice and Tulsi join in to raise the volume and support your ability to handle the many demanding pressures of life on Earth. They are all immune boosting and go to all organs of the body to increase vitality and radiance. This blend is the perfect combination for the speeding up of time and space and the ever increasing demands of our action oriented world.
Ingredients: Essences of Epidote, Ocean Jasper and Arkansas Quartz. Extracts of Astragalus, Tulsi and Licorice Root in OG Grape Alcohol. Spring Water in 1 oz purple glass bottle.
Epidote is a rich tonic. This stone will nourish and flourish every cell of who you are. It amplifies the health and beauty of everything it touches. A protector and soother, Epidote can heal all. As an adaptogenic stone it raises the threshold for stress, builds up the glandular system while raising consciousness.
Ocean jasper is the healer's stone. Ocean Jasper is an adaptogen that specifically nourishes the kidneys. The kidneys carry our divine essence, our jing.
Arkansas Quartz is reminiscent of Lemurian Quartz. This brilliant stone is an adaptogen and harmonizer.
Licorice root tincture is often referred to as the peacekeeper in Chinese Medicine. This beautiful herb offers antiviral properties (helps to keep away the cold and flu), is an anti-inflammatory, an immunomodulator and a beautiful liver tonic. Licorice counters stress and repairs any damage from stress in the body. The one precaution with this herb is to avoid it if you have hypertension.
Tulsi is also known as Holy Basil. This beautiful aromatic plant reduces stress, anxiety and depression. Holy Basil is a wise adaptogen that protects one from infections. It is particularly great for the heart, lungs, kidneys, eyes and skin.
Astragalus is a restorative herb, while increasing your vital energy. This antiviral herb heals damaged immunity and is cancer inhibiting. Astragalus protects the heart, liver, lungs, spleen, blood and Chi.
Instructions:
Take 3-10 drops in water or directly under the tongue 3 times each day or when wisdom calls. For acute conditions take 3-4 days and for chronic conditions take 3-4 months.
All elixirs and essences are 100% gluten free and organic. Every herb is grown in my garden (unless otherwise noted) or wildcrafted with permission and processed by my hands in a ceremonial way. My stones are cared for as prescribed by the ancient Daoist Stonalists. They are regularly cleansed and recharged depending on the stone's preference which can range from running water, a full moon bath, a hematite bed or a quartz bed.